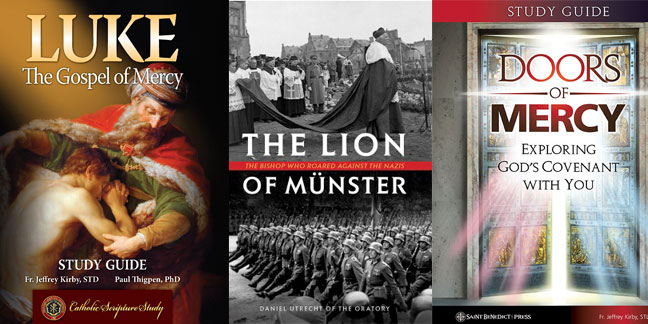 BELMONT — The Association of Catholic Publishers recently announced the winners of the 2017 Excellence in Publishing Awards, which recognize the best in Catholic publishing.
Among the winners were three Saint Benedict Press/TAN Books titles:
First place in the biography category: "The Lion of Münster: The Bishop Who Roared Against the Nazis" by Father Daniel Utrecht. It tells the true story of Cardinal Clemens August von Galen, the bishop of the diocese of Münster in Germany from 1933 to 1946, who risked his life by speaking out against the Nazi regime.
First place in the Resources for Ministry-Programs category: "Doors of Mercy: Exploring God's Covenant with You" by Father Jeffrey Kirby. This is an eight-week study that was created in response to the Jubilee Year of Mercy and is intended to lead participants into a deeper understanding and experience of God's love and mercy.
Third place in the Resources for Ministry-Programs category: "Luke: The Gospel of Mercy" by Father Kirby and Dr. Paul Thigpen. It is an 18-week Bible study program from Catholic Scripture Study International that explores the parables of mercy found in the Gospel of Luke and brings Luke to life with world-class video shot on location in Rome and Assisi.
Each work was recognized for its exceptional portrayals of grace, mercy and faith in their respective categories.
"We're honored to be included among the outstanding winners in the 2017 'Excellence in Publishing Awards,'" said Conor Gallagher, publisher of Saint Benedict Press and TAN Books.
"Father Utrecht, Father Kirby and Dr. Thigpen are each very deserving of this recognition," Gallagher said. "Themes of mercy and faith are woven intricately throughout these works, as is a commitment to presenting Catholic teaching in a way that is beautiful, informative and inspirational."
— Katie DeMoss is the senior publicist for Saint Benedict Press.