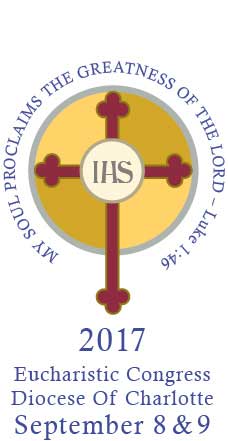 CHARLOTTE — The theme for the 2017 Diocese of Charlotte Eucharist Congress will be "My soul proclaims the greatness of the Lord," which comes from the first chapter of the Gospel book of Luke.
The Marian theme will set the tone for the annual gathering of thousands of Catholics at the Charlotte Convention Center on Friday and Saturday, Sept. 8-9.
The theme is placed in the familiar logo that consists of an altar cross and gold disc symbolizing the Eucharist.
The Eucharistic Congress has grown in popularity since it was first celebrated in 2006. More than 15,000 people attended last year's event.
— David Hains, diocesan director of communication
More online
At www.goeucharist.com: Check out the official website for the Eucharistic Congress, where updates on keynote speakers and registration information will be posted as details are announced