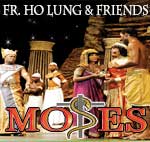 CHARLOTTE — Father Richard Ho Lung and the Missionaries of the Poor will bring their latest musical "Moses" to the Halton Theatre at Central Piedmont Community College Nov. 4-6.
The original musical drama will feature lively Caribbean music, dancing, colorful costumes and powerful performances.
The Missionaries of the Poor serve those most in need in many countries worldwide. This musical is a critical fundraising event which helps provide much-needed resources to futher the mission of the Missionaries of the Poor.
For details and to purchase tickets, go to www.mosesincharlotte.com.
— Catholic News Herald