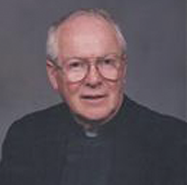 OLEAN, N.Y. — Monsignor Thomas R. Walsh of Allegany, N.Y., died Dec. 2, 2016, at Cuba Memorial Hospital in Cuba. N.Y., after a long illness.
Friends will be received from 4 to 7 p.m. Monday, Dec. 5, 2016, at the Casey, Halwig & Hartle Funeral Home, 3128 W. State Road, Olean, and from 9:30 to 10:30 a.m. Tuesday, Dec. 6, 2016, at St. Bonaventure Church in Allegany. A Mass of Christian Burial will be celebrated at 10:30 a.m. in the church. Burial will be next to his parents in St. Bonaventure Cemetery.
The son of the late John J. and Celia Phillips Walsh, he was a graduate of St. Bonaventure Parochial School and from Allegany Central School, where he was the class valedictorian of 1944, winning The James McLaughlin Scholarship to St. Bonaventure University. During his high school and college years, he served as one of the organists at St. Bonaventure Parish Church.
While in his third year of college, he was accepted as a candidate for the priesthood for the Diocese of Raleigh, with the help of Franciscan Father Thomas Plassman, president of St. Bonaventure University. He attended Mount St. Mary's College and Seminary in Emmitsburg, Md., and played the organ and did missionary work in North Carolina during his seminary years.
He was ordained to the priesthood in Greensboro in May 1953 by the late Bishop Vincent S. Waters.
Father Walsh served the Diocese of Raleigh and later the Diocese of Charlotte, when the state was divided into two dioceses because of the growth in the Catholic population. He served as assistant pastor and pastor of 13 parishes across the coastal, Piedmont and mountain areas of the state. He saw and experienced many changes in North Carolina with the growth of the Catholic Church in the South.
Perhaps his most notable achievement was his nine years as pastor of St. Gabriel Church in Charlotte, when the new church was built. He had much influence on its design, its inclusion of an organ and its protection of the large oak trees on the building site, for which the parish received an award of appreciation from the city of Charlotte.
Father Walsh retired to his hometown of Allegany in 1996 and assisted at local parishes in the Diocese of Buffalo, N.Y., often at St. Patrick's Church in Limestone, until his illness prevented him.
He was a member of the Allegany Area Historical Association and the Allegany Knights of Columbus, serving as its chaplain for several years.
He is survived by a brother, John P. (Jillian) Walsh of Allegany; three sisters, Barbara Walsh of Houghton, Sally (John) Vanini of Olean and Cameron (John) Donoghue of Weeki Wachee, Fla.; and eight nieces and nephews: Margaret Eckhardt, Bridget Walsh, Matthew Walsh, John T. Vanini, Kevin Vanini, Aileen Henning, and James and Mark Donoghue.
Flowers are declined. Donations may be made to St. Bonaventure Church, 95 E. Main St., Allegany, N.Y. 14706; The Alzheimer's Association of WNY, 2805 Wehrle Dr., Suite 6, Williamsville, N.Y. 14221; The Allegany Area Historical Association, P.O. Box 162 Allegany, N.Y. 14706; or an organization of the donor's choice.
Online condolences may be expressed at www.oleanfuneralhome.com.
Casey Halwig & Hartle Funeral Home of Olean was in charge of the arrangements.
— Catholic News Herald