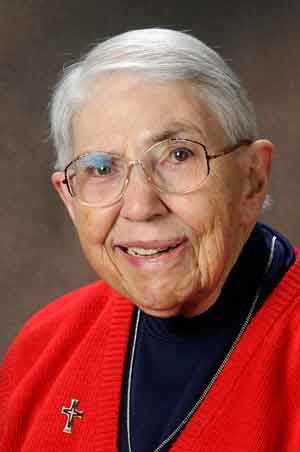 BELMONT — Mercy Sister Mary Matthew Snow, 95, died Friday, March 31, 2017, at Marian Center, Sacred Heart Convent in Belmont.
A Mass of Christian Burial will be celebrated at 11:30 a.m. Tuesday, April 4, 2017, in the Cardinal Gibbons Chapel of Sacred Heart Convent, Belmont. Interment will be at Belmont Abbey Cemetery.
Sister Mary Matthew was born March 20, 1922, in Fort Fairfield, Maine, the daughter of Benjamin and Fern Churchill Snow. Her parents and beloved siblings, Marie McClintock and William, are deceased.
She attended public schools in Maine and received a Bachelor of Arts from the University of Maine, a master's degree from the University of North Carolina at Chapel Hill, and a medical technology degree from Hunter Laboratory School of Medical Technology in Washington, D.C.
A Sister of Mercy for 62 years, she taught every grade except first. Included in her teaching career were Charlotte Catholic High School; Sacred Heart College, where she was dean of women; Belmont Abbey College; and the Catholic Orphanage of Nazareth in Raleigh.
She also ministered at St Joseph's Hospital in Asheville and Mercy Hospital in Charlotte, where she was head of the School of Medical Technology.
On retirement from active ministry in health care, she volunteered teaching homeless children and adults to read.
As a Sister of Mercy, she chose for her motto simply "Jesus" and wrote that a turning point in her life was standing at the Sea of Galilee hearing Jesus ask her: "
Matt, do you love me?"
Sister Mary Matthew was a noted storyteller or known yarn spinner. She had a penchant for writing and her adventures were legendary, such as snowshoeing, snowmobiling, hot-air ballooning and hiking.
Her hobbies were numerous as well as artistic, and included woodcarving, weaving, gardening and playing the harmonica.
While known for her accomplishments, she is most remembered by and for her many loyal friends.
Memorial donations may be made to the Sisters of Mercy of the Americas, Belmont.
McLean Funeral Home of Belmont was in charge of the arrangements.
— Catholic News Herald