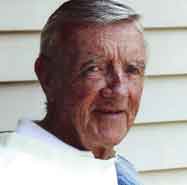 MOORESVILLE — Deacon Robert Michael Kratchman, 83, of Mooresville went home to the Lord after passing away peacefully on Thursday, April 6, 2017.
The Mass of Christian Burial was celebrated Monday, April 10, 2017, at St. Thérèse Church in Mooresville.
He was born in Brooklyn, N.Y., and lived in Bergen County, N.J. He retired in 1985 as captain of the Mahwah, N.J., Police Department after serving 25 years.
He was ordained a deacon for the Archdiocese of Newark, N.J., on May 14, 1992, and in May would have celebrated 25 years of ministry. He was an active member at St. Elizabeth Parish in Wyckoff, N.J., and St. Theresa Parish in Little Egg Harbor, N.J.
After serving in the Newark area, he served in the dioceses of Trenton, N.J., and Venice, Fla. His ministry included hospice; leading a monthly food drive which distributed more than 800 meals per month; and was a staff manager.
Moving to North Carolina in 2011, Deacon Kratchman was assigned to St. Thérèse Church. His presence there was a sign for others of the importance he placed on his own belief in God and his love to serve those he encountered. In his four years at the Mooresville parish, he continued his people-oriented service in the outreach ministry, Knights of Columbus and Men of St. Thérèse. He made an impact on many in the parish with his deep spirituality and evangelical approach to the Gospel.
He enjoyed fishing, cooking, traveling and, most of all, spending time with his beautiful family.
He is survived by his wife of 62 years, Joan Sullivan Kratchman; their children, Robert (Susan) Kratchman, Kenneth (Yvonne) Kratchman, Loretta (James) Tuit, and Nancy (Randy) White; nine grandchildren; two great-grandchildren; sisters Jane Mackey and Mary Kratchman; and many loving cousins, nieces, nephews and friends.
In lieu of flowers, memorial contributions may be made to the Children's Hospital of Philadelphia, 3401 Civic Center Blvd., Philadelphia, PA 19104, in honor of his great-grandchildren Abigail and Erin Delaney. Online condolences may be made at www.jamesfuneralhomelkn.com.
James Funeral Home of Huntersville was in charge of the arrangements.