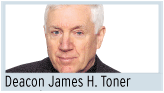 What we think is the right road
The Catholic priesthood is temporarily closed to women, but we can still make a progressive change in holy orders. There are male deacons, so why can't there be female deacons? Women deacons would be a good start on the path, after a few more years, to a priesthood that does not discriminate against women. They have a right to holy orders, too.
But it's the wrong road
The above adverb "temporarily" is mistaken. St. John Paul II wrote: "I declare that the Church has no authority whatsoever to confer priestly ordination on women and that this judgment is to be definitively held by all the Church's faithful" ("Ordinatio Sacerdotalis," May 22, 1994). On Oct. 28, 1995, the Congregation for the Doctrine of the Faith affirmed the infallibility of the pope's apostolic letter.
"No sacramental rite may be modified or manipulated at the will of the minister or community" (Catechism of the Catholic Church 1125) – which includes the substitution of a "reflection" for the homily or sermon. "No one," the catechism teaches, "has a right to receive the sacrament of holy orders" (1578), and only a baptized man may receive ordination (1577).
So often, we mistakenly view the Church through lenses provided by society, whereas we ought to be viewing society by the lenses provided by the Church. We live at a time and in a place which encourages us to "choose our biology." The "brave new world" written about in 1931 by Aldous Huxley, in many ways even he could never have dreamed about, has come to pass. Catholic moral theology, in this regard, is founded upon the biblical principle that God makes us male and female (Gen 1:27), and that we must not discard that eternal truth, or discount it by appealing to the fads, fancies and fashions of society.
Anyone – even a non-baptized person with the right intention – can and should baptize in an emergency. That women serve as extraordinary ministers of Holy Communion, lectors and teachers does not confer an analogical right to ordination. It is, similarly, a fallacy to conclude that, because a man and woman being married confer upon each other the sacrament of holy matrimony (CCC 1623), they may claim the right to priestly (or diaconal) ordination. The presence of the priest (or deacon) "visibly expresses the fact that the marriage is an ecclesial reality" (CCC 1630).
That Jesus chose only men to the apostolic priesthood (and no Gentiles) must mean, one sometimes hears from critics with their tongues firmly in their cheeks, that we must have a Jewish priesthood. But Our Lord was not "politically correct," and we are eminently justified (see Mt 22:16) in believing that, had He wanted to ordain women – to whom he showed a respect equal to men – He surely would have. Jesus did not ordain even His own Blessed Mother, who is free of sin. (see St. John Paul, "Mulieres Dignitatem"). Nor is there a single biblical or early Church reference to women being called to holy orders (see Acts 6:1-6, Phil 1:1, and 1 Cor 12:4-5).
The deaconesses mentioned in, say, First Timothy, were "appointed (a key word) for special tasks but not ordained for sacramental ministry in the strict sense. The First Council of Nicaea decreed in 325 A.D. that women deacons are numbered among the laity and not among the ordained clergy" (Scott Hahn and Curtis Mitch, "Ignatius Catholic Study Bible").
Deacons are not "junior priests." They are ordained to their particular ministry, not to the priesthood (Vatican II, "Lumen Gentium"). Here is the real nub of the argument about women deacons. If the service ministry of deacons is "generic" and does not proceed from holy orders, then the argument for women deacons may be meritorious.
Here, though, is the testimony of Sister Sara Butler, MSBT:
"The evidence to date indicates that deaconesses belonged to a women's order analogous to the male diaconate, carried out a ministry to women..., were ordained in rites similar but not identical to those for men..., and were prohibited from the liturgical ministry at the altar entrusted to deacons. ...The properly theological question...is the sacramentality of the diaconate itself. Deacons are ordained to the 'ministry' as distinct from the 'priesthood' (CCC 1569), but their office, exercised without interruption since apostolic times, has been recognized as belonging to 'major orders' since the 12th century. And the Church has always taught that the sacrament of holy orders is reserved to men (CCC 1577)."
There are those – Phyllis Zagano of Hofstra University among them – who dispute Sister Butler's judgment. Father Kevin M. Cusick of the Archdiocese of Washington has recently suggested that the actual "endgame" of those seeking women's ordination to the diaconate is rejection of the male priesthood.
Father Cusick doubts that deliberations about women deacons "will lay to rest the complaints among those who have a congenital instinct to see the Church as an ever-changing canvas for self-expression rather than the place of faith where sinners undergo saintly change for the sake of their salvation."
Deacon James H. Toner serves at Our Lady of Grace Church in Greensboro.